Some professions require walking long distances, climbing, and fast reactions or preparedness for different situations and all possible scenarios. Obviously, carrying a toolbox isn't going to work, and you can't stuff pockets of your pants with necessary tools either. For men and women whose jobs revolved around climbing, running, walking long distances, and overall preparedness backpack tool bag is the most practical option. Bearing in mind, it can be frustrating to look for the ideal product we decided to create the list of the backpack tool bags of this kind to consider. Take a look.
Milwaukee 48-22-8200 Denier Jobsite Backpack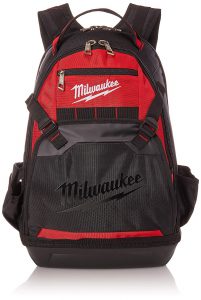 Source: Amazon
Milwaukee Tool is one of the most reputable companies in the heavy-duty power tools industry. In addition to power tools, they also design and manufacture accessories and hand tools for professionals around the globe. Founded in 1924, Milwaukee cultures an unwavering commitment to optimal customer satisfaction. The Milwaukee Jobsite Backpack was built with durable 1680 denier material. The backpack, designed with professional tradesmen in mind, features a base that's resistant to water and impact. Considering that you have to carry your backpack tool bag throughout the day, Jobsite Backpack comes with a padded and breathable load-bearing harness for uninterrupted job performance and ultimate comfort. You can easily store the largest items or the most necessary tools in the fold-down pocket. In other words, Milwaukee Jobsite combines functionality, comfort, and quality. It's also important to mention this amazing backpack has protective storage for laptops and tablets.
Klein Tools Backpack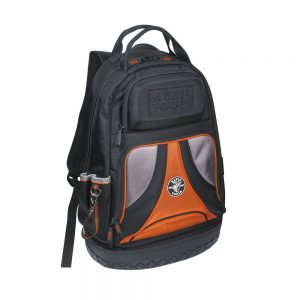 Source: Amazon
Klein Tools is yet another company with a long history. This well-known manufacturer of hand tools was founded in 1857 and has survived over a century in this business is a clear indicator we're talking about a company that prioritizes quality and customer service. Their backpack tool bag is absolutely amazing. Not only does it come at a reasonable price, but it also has some amazing features you can't easily find in other backpacks. What makes it so special? The backpack has a fully molded bottom and 39 pockets where you can store absolutely everything you need. No, it wasn't a typo – the backpack really has 39 pockets! The interior is orange so you can easily identify and find tools you need even in the most hectic situations. Front pockets are hard modeled thus allowing you to store protective glasses without breakage or scratches safely. There's also a front zipper pocket for the tiniest tools and part, so you don't lose them when they're needed the most. Of course, interior pockets are most suitable for longer tools and thanks to powerful design it won't feel uncomfortable wearing the backpack filled with all sorts of tools and parts on your back.
Custom Leathercraft DEWALT Lighted Tool Backpack Bag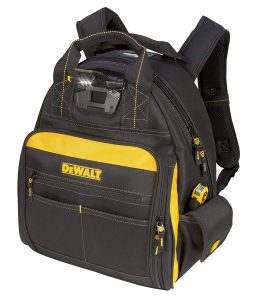 Source: Amazon
The main philosophy of Custom Leathercraft is to manufacture high-quality gear at reasonable prices. From the moment they design a certain piece of gear until it's time to sell it, their team dedicates a great deal of attention to every detail, pattern, material, stitching, binding needs as well as other parts of the process ranging from reinforcing to the way the fabric lays. If your job has night shifts and requires spending a lot of time in the dark environment, then this backpack tool bag is the ideal choice for your needs. Why? The backpack comes with integrated LED lights that make it easier to find tools in the dark but also to light up the working area. This useful piece of gear features 57 pockets 48 of which are multi-use pockets inside while nine are located outside. That way, you can easily store and organize your tools as you see fit. Extra comfort is ensured through padded web carrying handles and adjustable shoulder straps as well as large pads placed in the back area. 
Custom Leathercraft 1134 Carpenter's Tool Backpack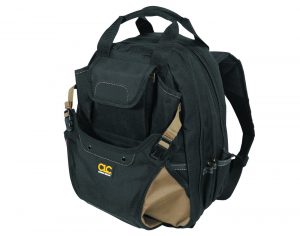 Source: Amazon
Customer Leaterhcraft did really a great job with their backpacks for tools. In addition to the convenient price, this practical backpack comes with two main zipper compartments. One compartment is reserved for cordless drill and battery while the other one is for tools and other parts you need to perform at work. If your tool arsenal consists of bulky items, you can easily store them in the adjustable compression pocket. The 1134 carpenter's tool backpack has 41 pockets inside and seven outside thus enabling professionals like you to organize and store tools, accessories, and parts you need. When you can store everything in its place, you won't end up losing some important tool which would make even the simplest situations a lot more difficult. Handles on the top allow you to carry your backpack in the hand when necessary. If you need to carry the backpack all day, you'll be glad to know it features a comfortable padded back support and an adjustable chest strap.
Carhartt Legacy Standard Work Backpack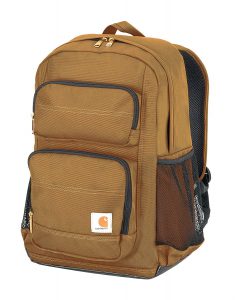 Source: Amazon
Carhartt is a US-based apparel company founded back in 1889. The brand is most widely known for clothes specifically created for workers from different industries, but they also work on other types of gear including backpack tool bag. One of the most affordable items on the list, this backpack was made of durable 1200D poly, but it also features rain defender water repellent. It's also useful to mention the backpack has an abrasion-resistant base. Small pockets are conveniently placed outside to allow you to store your keys, phone, and other smaller objects. The backpack doesn't have dozens of pockets as the items shown above, and besides work, it can also serve for school. To make sure you're hydrated throughout the day, the backpack comes with mesh water bottle pockets. The minimalist design appeals to men and women who don't like bulky backpacks with a lot of things going on inside and out.
VETO Pro Pac Tech-MCT Tool Bag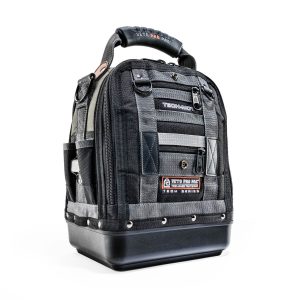 Source: Amazon
Veto's version of a backpack for your tools is very compact and easy to carry around compared to bulkier models on the market. Don't let the compact look to fool you; the backpack still comes with various features that make your job a lot easier. Pro Pack Tech-MCT has two storage bays with a lot of room for hand tools and meters, compact cordless drill, and you name it. Tools and parts needed for your daily routine are easily organized and stored in 44 pockets inside, but also on the outside. Not just that, this amazing backpack also features stainless steel tape clip, D-rings, bit extension and memory stick pockets, and a quick access pocket for the tiniest, yet important tools, parts, and other stuff. You can conveniently store and organize more than 50 different tools into this backpack.
Rugged Tools Pro Tool Backpack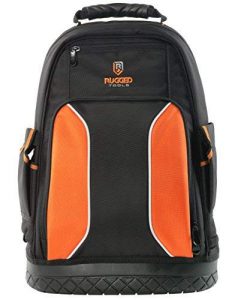 Source: Amazon
Judging by the brand name Rugged Tools backpack is specifically designed with durability in mind. The backpack tool bag is made of 1680D polyester and comes with reinforced pockets closed with durable, strong zippers that are able to withstand even the harshest conditions. Bottom of the backpack is molded and flat meaning you can easily place it upright, and it will stand without any problems whatsoever. This can come in handy in various situations as standing upright allows backpack to elevate your tools to avoid potential damage caused by mud, water, or even snow and ice. Suitable for carpenters, electricians, plumbers, contractors, and professionals from other industries the backpack features 40 pockets for easy storage of tools. 
XtremepowerUS Tool Bag Organizer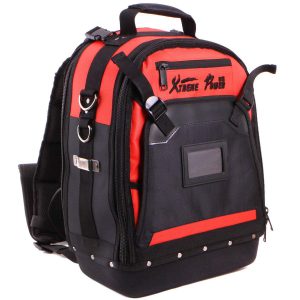 Source: Amazon
XtremepowerUS used thick and sturdy materials to create their tool bag to ensure durability. Water-resistant and padded material is used for both the back and straps to provide comfort when you're carrying your backpack throughout the day. A total of 36 pockets make this piece of gear a practical ally every professional need on his (or her) mission. If you need to carry a tablet or laptop no need to worry because you can easily place them in back storage pocket.
Jackson Palmer Tool Backpack Contractor's Edition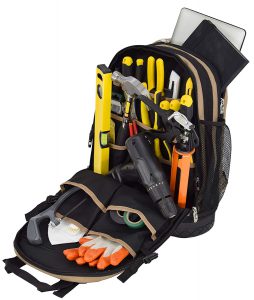 Source: Amazon
Jackson Palmer's backpack tool is built to work thanks to strong stitching and durable materials. Considering that contractors don't just carry around tools, but important documents and laptops as well, the backpack features a section where you can store and keep them safe. Tools are also neatly stored in larger interior compartments or two pouches in case you're using some smaller tools and other parts. The backpack has a flat and molded bottom, comfortable chest strap, and a simple, minimalist design.
VETO Pro Pac Tech Pac Service Technician Bag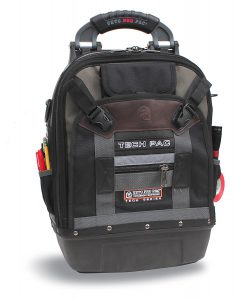 Source: Amazon
Second Veto backpack tool bag on the list also happens to be one of the most practical choices of gear you can find today. What makes this backpack so amazing is that it features 56 interior tool pockets and ergonomic padding for comfort and minimal risk of pain, stiffness, injuries, and discomfort. Featuring patented center panel the backpack has two storage bays and four storage platforms for ease of use. Waterproof fabric protects the tool from water, rain, and damp environment. EVA thermo-formed padding and internally stored aluminum hook that allows you to hang the backpack make it a unique piece of gear on the market. Heavy duty backpack comes with a five-year warranty.
Conclusion
The backpack tool bag is a convenient choice for carpenters, contractors, technicians, and professionals from other industries to carry their tools even in the harshest conditions without discomfort and unnecessary hassle. Consider your needs, the approximate number of tools you carry, and whether you also need a laptop or tablet on the road before you make the final choice.