As a handyman, construction worker, carpenter, outdoor person, policeman or basically a regular human being you want to simplify projects and tasks to complete them faster, but with greater success. Practical multitool is incredibly important for everything you do. After all, successful completion of some task depends on good organization and specific tools that you use. To make things easy and simple, you can always opt for multitools which and, fortunately, they're easy to find and use. In this post, we're going to focus on the best tools of this kind that you definitely need in your toolbox. 
What to look for in a multitool
Before we discuss some of the best multitools, it's useful to learn a thing or two about factors to look for in these products. When buying multitool, the goal is to get the best value for your money. You want a product with most tools that also work, but are affordable enough to be friendly for your wallet. So, here's what to look for in multitool:
Selection of tools (you want as many as possible)
The functionality of tools featured in a multitool
Price
Size
Weight (heavy duty or lightweight, based on your needs and preferences)
Durability
Leatherman Super Tool 300 Multitool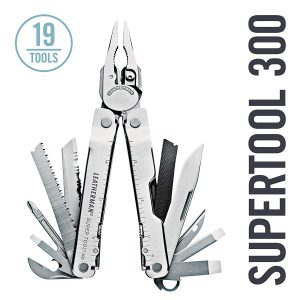 Source: Amazon
Leatherman is one of the most well-known brands of multitools and knives whose products stand for quality, ease of use, and durability. Their Super Tool 300 multitool is built with the strongest pliers the brand has ever made. The handle is specifically made to be gripped with gloves which are particularly important if we bear in mind that many tools are uncomfortable and awkward to use when a person is wearing gloves. This multitool features 19 different tools in total. Some tools include knives, screwdrivers, pliers, electrical crimper, wire cutters, file, saw the bottle and can opener, ruler, and all. What makes this multitool so amazing is the fact Leatherman put a lot of effort into making it safe as well. With the all-locking feature, all tools and knives lock when fully opened for safe and secure handling. 
Pros
High-quality build and design
25-year limited warranty
Practical and functional
Safe to use
Versatile
Designed for comfort, portability, and safety
Leatherman Skeletool CX Lightweight Multitool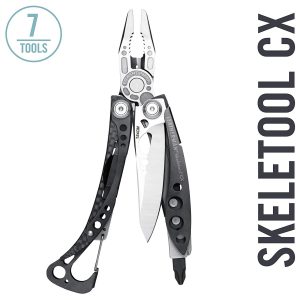 Source: Amazon
A major problem for some men and women is that multitools can be quite heavy, which is not practical in many situations. If you're looking for a lightweight multitool, then you may want to consider Leatherman's Skeletool CX Lightweight Multitool. This piece of work contains only the most necessary tools that most users need. As a result, it's not heavyweight, and it's easy to carry it around on a daily basis. Skeletool CX features needlenose and regular pliers, wire cutters (both hard and regular), bottle opener, and a large bit, driver. Probably the most practical thing about this multitool is the fact that you can only use one hand to open all the tools that are included in it. Sometimes you are too busy with work, and you need to do something as soon as possible, but you can only do it with one hand. In those situations having a multitool that you can open with one hand is crucial. This is definitely a good tool to use.
Pros
Comes in two variations: stainless steel and stainless steel with a nylon sheath
Perfect for everyday use
Lightweight
Carbon handle
Solid and sturdy feel
25-year warranty
Cons
Wire cutter section is quite small
Pocket clip doesn't grip pants well enough
Pliers are a bit stiff
SOG Multitool Pliers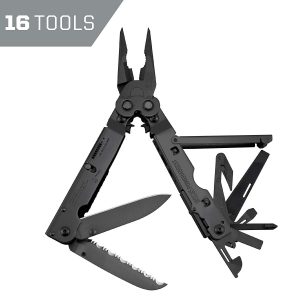 Source: Amazon
Based in Lynwood, Washington, SOG belongs to the group of the most popular knife and tool manufacturing companies. Their products are inspired by military and tactical forces, and they're designed for everyday use. This particular multitool features the PowerAssist mechanism which allows you to open and pull out tools with ease. Due to the fact that blades are placed outside, they are easier to deploy. At the same time, the assist mechanism completes the opening process. The 420HC steel was used to make the blades of this multitool. One blade has a fine edge with a black oxide finish while the other one is fully serrated. A total of 16 tools is featured in this multitool such as screwdrivers, pliers, bottle and can openers, blasting cap crimper, and others. It's also important to mention that this multitool is lightweight and easy to use when camping, fishing, backpacking, in the warehouse, combat, you name it.
Pros
Patented compound leverage: proprietary SOG tech for twice the power of regular multitools
PowerAssist mechanism
Great design
Durable
Practical
Sharp blades

 
Cons 
Multitool is quite large, but blades are rather small
One-hand opening and closing isn't quite doable

 
Victorinox Swiss Army SwissTool Multi-Tool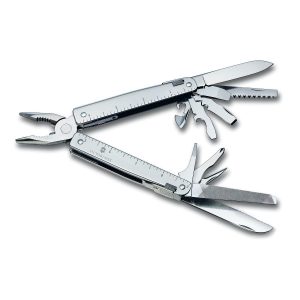 Source: Amazon
While this may not seem like a "regular" multitool, it's a great thing to have for general use. This multitool features 27 functions such as pliers, spear tip blade, screwdriver, openers, saw, rulers, and others. SwissTool comes in a pouch meaning you don't have to worry about losing it and its parts, they're safely stored. The lightweight tool is made of stainless steel for amazing strength and durability. The convenient design allows users to access each tool individually from the outside of the handle. Once opened, tools lock in place for safe handling.
Pros
Comes with pouch
Mini toolkit
27 functions
Easy to use and clean
Durable remains perfect even with long-term use
Smooth and rounded corners and edges
Tools open easily and smoothly
Sturdy, nice feel
Cons
Quite pricy
Some users may still find it bulky and heavy

 
Leatherman Wave+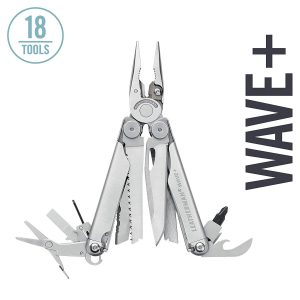 Source: Amazon
The Wave+ is the most popular multitool made by Leatherman. It comes in two versions: stainless steel and black oxide finish. Amazing construction makes this multitool suitable for different kinds of environment. Above all, it's sharp, durable, and easy to use. Users can access blades like file and saw without having to open the pliers. Plus, their blade deployment is smooth and seamless, which is always a good thing. Wave+ features replaceable wire cutters, pliers, wire stripper, saw, ruler, can opener, bottle opener, files, screwdrivers, plain and serrated knives, scissors, among others. The multitool is designed in a way to allow men and women to use only one hand to open the desired tool. Compact and lightweight Wave+ fits easily into your pocket where you can access it whenever you want or need.
Pros
Durability and strength
High-quality

 

Sturdy design
Tools are easy to open
Comes with a pouch
Pliers are perfectly matted

 
Cons
No clip
Black finish in black oxide finish multitool scratches easily

 
Gerber Bear Grylls Ultimate Multi-Tool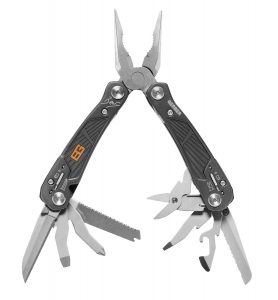 Source: Amazon
Bear Grylls is a famous name, and all of us have watched his shows where this brave guy does extraordinary things to survive. Now, you can have a tool that Bear Grylls uses when he's in some of the harshest and most dangerous places on the planet. The multitool is suitable for different purposes such as military, survival, tactical, hunting, industrial and outdoor situations, and many others. The multitool is a result of collaboration with Bear Grylls and features 12 weather-resistant components including needle nose pliers, fine-edge and serrated knives, saw screwdriver, flat drivers, lanyard ring, bottle and can opener, wire cutters, and scissors. Lightweight and comfortable design won't weigh you down; it's easy to carry it and use whenever necessary. 
Pros 
Lightweight
Comfortable
Great strength-to-size/weight ratio
Sturdy
Tools are easy to take out
Well-constructed

 
Cons 
The pouch has a divider which makes it difficult to slide the tool into it
The pouch is also tight
The screwdriver is too small
Tekton 7989 10-in-1 pocket multi-tool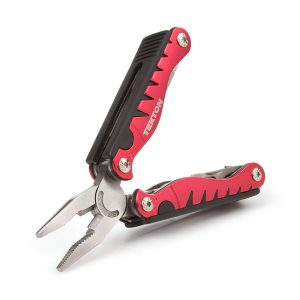 Source: Amazon
A common problem that many people encounter is that they need multitool, but most products on the market tend to be expensive. If you're on the budget and still need multitool for your job or hobby, then Tekton's item is worth considering. The 10-in-1 pocket multitool has a good build with anodized aluminum handles with grips made of soft rubber. That way, the multitool won't slip as you use it. The practical multitool comes with pliers, awl, wire cutters, screwdrivers, bottle and can openers, saw, knife, and file. Due to the fact that pliers feature spring-action function they are able to return to open position and reduce hand fatigue.
Pros
Affordable
Rubber grip
Strong pliers
Wire cutters are sharp and durable
Spring action is convenient
Cons
No sheath or pouch
No open lock mechanism
Knives need more sharpening
Tools are packed tightly

 
Conclusion
The multitool is a convenient addition to your job, hobby, home, and you name it. Before you make a final purchase make sure you consider size, quality, tool selection, price, and other factors. Go for a product that matches your wallet, needs, and preferences the most.