Each time we dress up, we need to have that final touch. A touch that requires few but fine details to distinguish us from the usual. Usual is boring and adding something unique to our dressing breaks the boredom. A rare minimalist watch can serve us this purpose. Apart from telling time, a minimalist watch is a perfect accessory that blends well with our outfits. The following are some of the best watches to consider for complementing your outfit:
1.     MVMT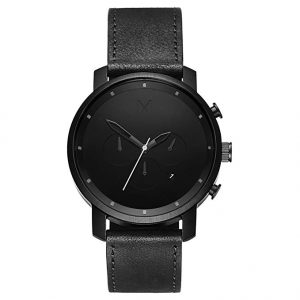 Source:  Amazon
When you look at your watch, it should feed you with a clear look. This watch has a simple design that makes you feel organized. It has a clear view with a case diameter of 40mm. Its glass is made from a premium silicon mineral that is hard and stable. It does not allow water to pass through and can tolerate a depth of up to 50M.
This minimalist watch has a perfect wrist band that is adjustable to help you set the length according to your dress code. It has three sub dials to ensure you get the most accurate time.
2.     Miansai M24 Noir Watch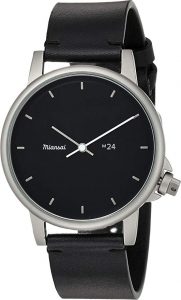 Source: Amazon
A brand that is a true definition of minimalist. This watch has simple features that are specially combined to give an indescribable final look. The color combination is perfect to give you that outstanding look. It has an adjustable leather band with a highly polished buckle to complement the look.
3.     Daniel Wellington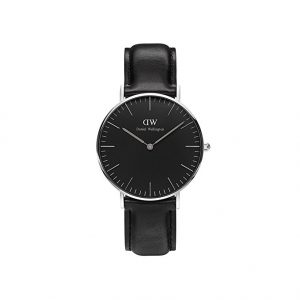 Source: Amazon
The watch is crafted with a leather band and has a face diameter of 36mm. It has put special attention to the essential parts of a watch. Daniel Wellington minimalist watch uses the quartz movement technique. This watch is tolerable to harsh conditions such as water. It can bear a depth of up to 100M. However, it is not advisable to subject it to such conditions to protect the leather band.
4.     Piaget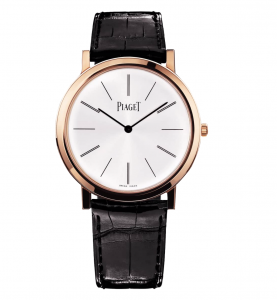 Source: Piaget watches
You cannot talk of luxury if you don't mention Piaget watch. Its sleek and weightless design is remarkable. The altiplano watch has a diameter of 38mm which makes it look perfect on your wrist. Its rose gold metal finishing gives it that royal look.
The watch's movement is mechanical, hand wound. It is definitely the type of minimalist watch to go for if you are attracted to luxurious items.
5.     Ted Baker London Watch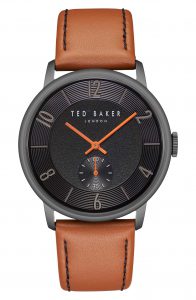 Source: Nordstrom
This watch defines value and comfort. Its leather band is comfortable to wear and adjusts to the size of your convenience. It has a sharp and steady gunmetal case that does not readily detach from other parts of your watch.
It has a long battery life that stays with you alive for long period. It adjusts to atmospheric changes, and its materials do not react to the new environment.
6.     Skagen Hagen Watch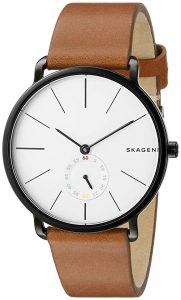 Source: Amazon
A stunning boardroom watch that is inspired by Danish design. The 40mm case diameter watch has a sub seconds eye that compliments the visual aspects.
This watch's design mimics the horizon and gives you a clear, minimalist view. You can never be off while complementing your outfit with this watch.
7.     Komono KOM-W1904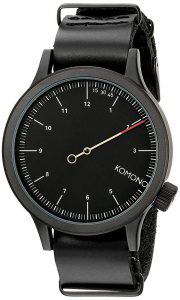 Source: Amazon
The Belgium tradition inspires this watch. When you talk of creative design, attention to detail and quality, this watch fits the description. The watch has a 46mm case and incorporates the Japanese quartz movement. Its hand band is made of genuine leather to give you a comfortable feel.  
8.     Cate And Nelson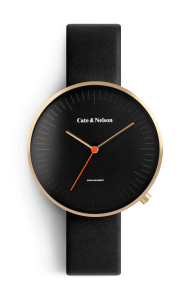 Source: Catenelson Watches
The watch reflects the Scandinavian design. The metro system in Stockholm inspires it. This Cate and Nelson watch is 40mm case diameter. It is made of stainless steel and is light to wear. Its leather band is made explicitly from Swedish organic leather. It has a soft feel that is silky and friendly to your wrist.
The leather band gets beautiful as the watch ages. Thus, it is designed to last long if not for a lifetime.
9.     Museum By Movado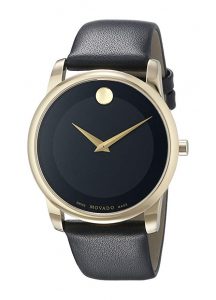 Source: Amazon
The top-notch craftsmanship of this watch incorporates the Swiss quartz movement. Its sleek design creates a 40mm case that is stainless. Its window is made from sapphire to give it maximum resistance from breakage and water. Its black leather band perfectly matches with the stainless case.
10.  Tsovet JPT-CO36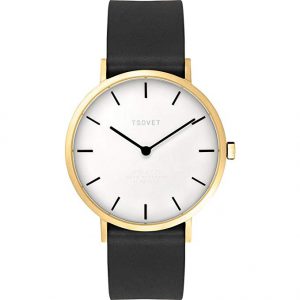 Source: Amazon
How about having a lifetime battery replacement? Amazing right? As if that is not enough, this watch comes with a limited five-year warranty. It uses the Japanese quartz movement and is fitted with a crystal dial window. This minimalist watch utilizes both futuristic and modern styles to make it a timepiece you wouldn't want to put down.
Its leather band is firm and friendly to your wrist. It has two smaller accessories on the band to hold it tight after buckling.
11.  Uniform Wares M40 Watch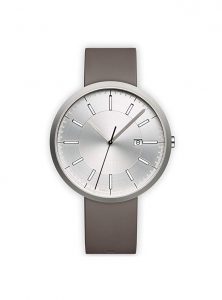 Source: Amazon
A modernist watch that uses the Swiss quartz movement technique. The durability of this watch is unquestionable as it consists of a stainless steel metal case that is PVD plated. Its buffed leather band is adjustable with the help of a buckle and a pin which are highly polished to finish that look. This minimalist watch is worth investing in as its durability, comfort, and resistance are its notable qualities. 
12.  Hygge Watches 3012 Series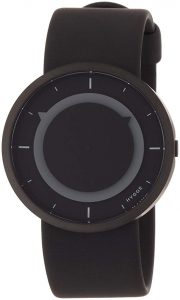 Source: Amazon
This futuristic watch has everything in it as unique. Starting from its name and design, it is a watch worth considering. It has a wide range of color combinations, which make it match with almost every outfit. Its design is super unique and adjustable to fit whichever style you choose to wear.
13.  William Strouch Black Watch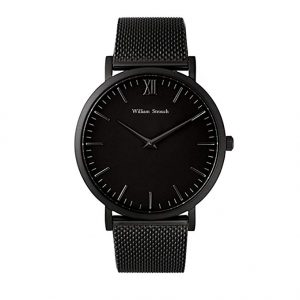 Source: Amazon
This minimalist watch offers luxury at a ridiculously low price. The watch uses the smart Swedish design to come up with a case diameter of 40mm. The stainless steel case is durable and does not allow water to pass through.
14.  Alessi Men's AL 8004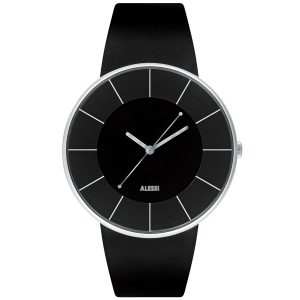 Source: Stardust
A watch that captures several moods in one place. At the same time, it controls the extent to which the moods reach. It comes with a small size that is perfect on your wrist. It blends black and silver colors to give the ideal environment for these moods.
It has a case diameter of 36mm and can resist water to the depths of 165 feet. This minimalist watch utilizes the Japanese quartz movement.
15.  Bering Max Rene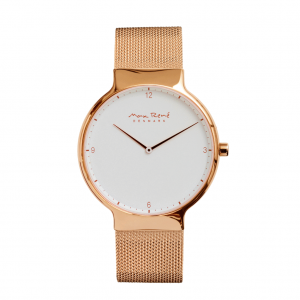 Source: Amazon
What about a new look every day? Yeah, that's right. This minimalist watch gives you the opportunity to change looks on a daily basis. Its straps can be easily removed within seconds. You can then change to a color that matches the day's theme. What is most appealing about these straps is that they are available at Rene collection. Thus, you don't have to worry about where to get changing straps.
Although the straps are comfortable to change, they won't fall off from your wrist while wearing. This watch's lens of this is made of sapphire which is hard and water resistant. The watch comes with a variety of colors from where one can choose. 
16.  Kitmea Keung Long Distance Classic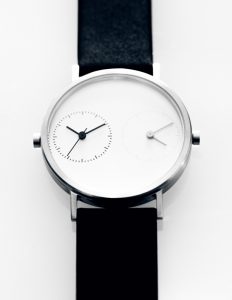 Source: Kit Men Keung watches
What if geometry is your favorite? Well, this is the kind of watch that would describe you. Even if you do not understand it, this watch can help you feel good about yourself.
It incorporates modern and geometric designs — this show great potential to create even more advanced series of this watch. The watch expresses a modern design and culture through its design.
17.  M24 II White Black Nylon Watch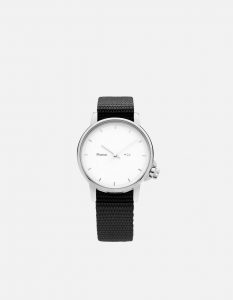 Source: Miansai Watches
The 39mm case diameter watch utilizes Japanese Seiko movement. The nylon bands give the stainless steel a clean finish.
It feels light and comfortable. The nylon band allows your hand to breath.
18.  About Vintage 1969 Quartz Watch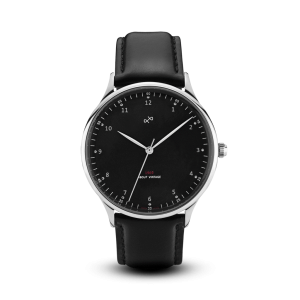 Source: About Vintage Watches
A watch that gives an impressive dome look from that make of its crystal dial window. The Ronda 376 issue uses Swiss quartz movement.
The stainless steel case is 39mm. It is water resistant and its time markings are bright enough to be visible from the dark color of the watch.
19.  Junghans Max Bill Watch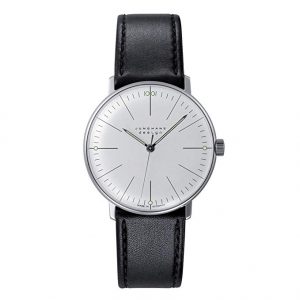 Source: Amazon
An ordinary minimalist watch designed for an extraordinary audience. This minimalist watch is simple and uses simple materials to actualize it. The window is intentionally made of clear plastic to represent the fragility of time.
Its casings are made of stainless steel. These materials give you the ultimate complexity in this watch.
The watch fits slim and represents power.
20.  Calvin Klein Men's Minimal Watch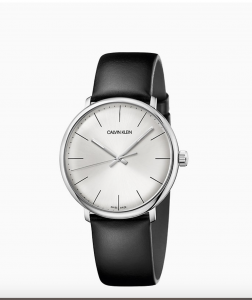 Source: Calvin Klein watches
An eye-popping watch that is irresistible to look. Its design incorporated some of the best features in the watch arena.
The 40mm case houses a Swiss quartz movement. The leather band is flawless with no visible stitches.
This minimalist watch does not broadly show the logo, and it is almost invisible. This aspect makes it even more comfortable and appropriate for different occasions.
Conclusion:
Having yourself or a loved one a minimalist watch should be one of your to-do lists. These watches are trendy and define the person in you. They are easy to wear and are comfortable on your wrist. They come in a variety.
Thus, you have an option to compare one brand to the next and settle with one that impresses you. Whether your budget is tight or is for extravagance reasons, you will always find a minimalist watch that suits your needs. You can also check the best small wallets reviewed by us that can go with the watch you choose.