If you're an outdoor man who spends a lot of time in nature, then you definitely need a great pocket knife. You need one of these knives even if you're not actually outdoorsy, and they're a standard piece of equipment among craftsmen, policemen, climbers, rescuers, handymen, you name it. Finding the ideal knife can be a little bit tricky because there's a whole spectrum of different options in stores and online. To make things easier for you, this article focuses on the best pocket knives you can buy today.
Tac-Force TF606WS Engraved Pocket Knife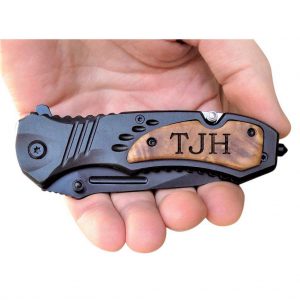 Source: Amazon
Tac-Force TF606WS is all about practicality, convenience, but also with a personal touch. The knife makes a great gift for someone as you have the option to customize it with up to two lines of text which are professionally engraved on one side of the handle. The folding tactical knife has a stainless steel razor sharp blade and a burl wood handle with a belt and pocket clip to ensure easy access whenever necessary. 
Gerber Paraframe Mini Knife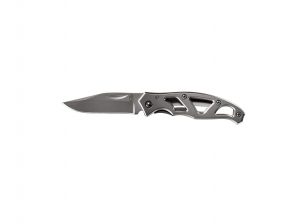 Source: Amazon
Gerber's Praframe mini knife is one of the most practical pocket knives for camping, hunting, military, survival, tactical, and various outdoor and industrial situations. The knife is based on the same frame-lock design as other items from the Paraframe series. Both blade and the handle are made of high-carbon stainless steel. Its miniature size proves to be quite handy, especially and it's also useful to mention the knife is solid and sturdy.
Gerber Paraframe I Knife

Source: Amazon
This pocket knife is a bigger version of Gerber's Mini Knife. Just like its miniature counterpart, this knife serves various applications ranging from camping to military and industrial purposes. Simplicity is the best characteristic of this knife which is exactly what practical, outdoorsmen are looking for. Paraframe I has a simple frame with a fine edge locking lightweight blade. Made of stainless steel, the knife is also easy to clean and maintain. 
Gerber STL 2.0 Knife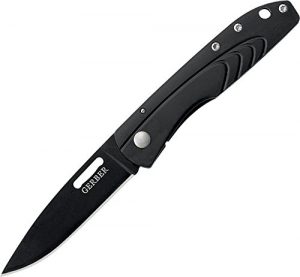 Source: Amazon
Garber's STL series is a great option for men and women who are looking for the best pocket knives. STL stands for Strong, Thin, and Light which perfectly describes this piece of art. The knife weighs one ounce only meaning it sits comfortably in your pocket. At the same time, drop point blade is made from surgical-grade 7Cr17MoV stainless steel while the handle is coated with titanium for increased durability and corrosion resistance. 
Victorinox Swiss Army Tinker Pocket Knife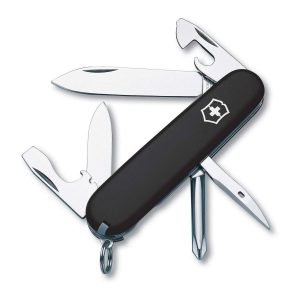 Source: Amazon
When it comes to the pocket knives Swiss army, it is always a good choice. This knife has 12 functions to help you overcome just about any obstacle and equip you for different adventures. Besides the large razor-sharp blade, Victorinox Swiss Army Tinker also features small blade, screwdriver, bottle opener, can opener, among other things. Stainless steel construction makes this knife durable and a loyal ally during your trips, missions, climbing or camping endeavors. This pocket knife comes in 14 different color options.  
Kershaw Cinder (1025X) Multifunction Pocket Knife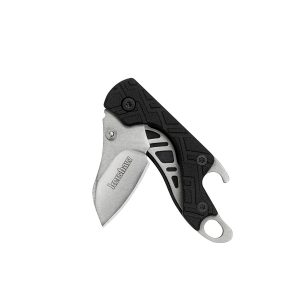 Source: Amazon
Pocket knife keychain is a convenient way to have the knife ready to use whenever it's necessary, particularly if you're in a hurry or in stressful situations where access to the equipment is vital. Kershaw's multifunction knife has an upswept tip blade made of high-performance stainless steel with strong corrosion resistance. Thanks to its compact design, this particular knife fits easily into the pockets, backpacks, purses, but also on keychains. The multifunction knife also comes with a secure locking system, durable handle, and manual flipper.
Case Trapper Knives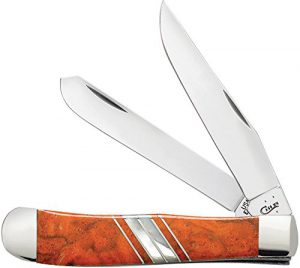 Source: Amazon
Case Trapper knives have sharp surgical steel blades that prove to be incredibly useful for hunting trips, projects around the house, outdoor adventures, repairs, and other applications. The Tru-Sharp collection comes in stainless steel and chrome vanadium alternatives. Buyers also have plenty of colors to choose from. Made in the USA, both blades are about four inches long, and customers love their craftsmanship. The knives are sharp out of the box and very durable. 
 Tac Force TF-705 Assisted Opening Series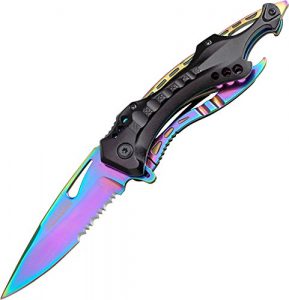 Source: Amazon
Tac Force TF-705 has a modern design that comes in different colors and varieties, but it's also practical and affordable. Half-serrated stainless steel blade combined with aluminum handle featuring glass breaker and bottle opener makes this knife a great choice for first responders, rescuers, military, you name it. The tactical folding knife offers easy one-handed deployment, and it locks securely into place. Safe handling is an important quality to consider when buying a knife of this kind, and this particular item has everything you need and more.
SOG Specialty Knives and Tools KIT00045 Jungle Bundle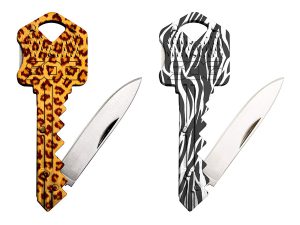 Source: Amazon
If you're looking for a pocket knife key that also looks fabulous, then SOG's item is a great choice. The knife comes in two styles: combo-zebra and a cheetah and it has 1.5-inch straight edge with a stainless steel blade. Weighing less than an ounce, this knife is convenient for everyday use, and it also comes with a lifetime warranty. Not only is it suitable for self-defense, but this knife also serves other purposes such as opening a box, cutting a rope, just to name a few. Since its handle is shaped like a key, you can easily place it on your keychain and carry the knife around to use whenever you need it. The idea behind this knife is that you never know when you're going to need a practical, steady, and sharp knife, so it's always useful to take it with you wherever you go.
Benchmade Crooked River 15080 Knife, Clip-Point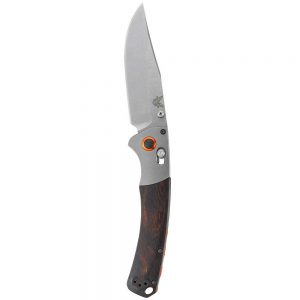 Source: Amazon
Crooked River 15080 knife has a long and slender blade with a clip-point style. The blade has a beautiful appearance as a result of wonderful craftsmanship. It is harvested from a 3.15mm thick piece of stainless steel and has a flat grind as well as Benchmade's signature duo-tone stain finish. This pocket knife proves to be a great tool for piercing, skinning and cutting making it an ideal knife for hunting. The curved handle doesn't just look great, and it has an ergonomic design, i.e. it fits in your hand perfectly. That way you have a tight grip that it's easier to avoid injuries while getting the job done. 
Spyderco Tenacious G-10 Combination Edge Black Blade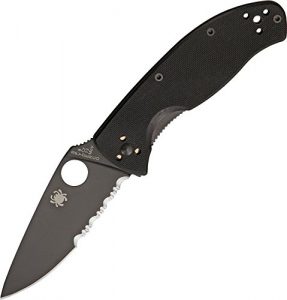 Source: Amazon
Spyderco knives are different, peculiar, and unique due to various innovations the company has implemented in their designs. Some of these include one-hand opening, serrations on a folder and a clip that allows users to attach a knife to the pocket. The company tested their knives for quality so you can be certain the item you buy is high-quality, durable, and handy. Hair-splitting degree of blade sharpness goes perfectly with top-flight ergonomic handle for effortless cutting. While it may seem a little bit on a heavier side on the picture, the knife is lightweight and easily fits in your pocket, toolbox, backpack, wherever you need it.
RoverTac Pocket Knife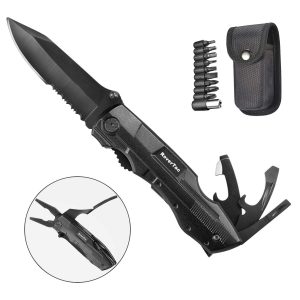 Source: Amazon
Having a knife only may not be enough in certain situations which is why it can be useful to go after pocket knife kit. These kits usually feature different elements which make survival, camping, hunting, and other activities significantly easier. That way you're prepared for everything that may occur on your adventure or work. RoverTac's knife is made entirely of stainless steel with black oxidation that ensures durability. The compact knife is, actually, a practical, multifunctional tool for different outdoor activities and home improvement projects. The knife comes with a ballistic nylon pouch that you can attach to your belt for easy access. Also, the kit features 9-in-a 1 bit set for a screwdriver, and the knife itself comes with a  bottle opener, can opener, safeguard, wire cutter, plier, needle nose plier, knife saw blade and plier handle. 
Buck Knives 0379 Solo Folding Pocket Knife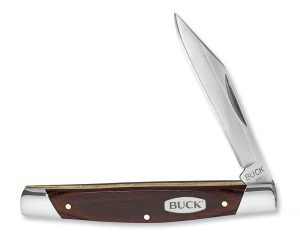 Source: Amazon
While this is not a knife that you can use for survival and other similar purposes, but it's still a convenient option for everyday use. What makes it one of the best pocket knives is a great reputation as people associate the brand for quality and durability. Plus, customers love this knife and find it easy to use, convenient, and it lasts longer than some other options on the market. The blade is razor sharp and made of stainless steel with impressive corrosion resistance. The lightweight knife is detail-oriented meaning it's particularly useful for cutting tight pieces, carving, piercing, and other activities that require a great amount of precision and attention to detail.
Conclusion
We need pocket knives due to a wide range of reasons. Some of us go camping while others require it for home improvements, work, and many other purposes. There is more to knives than we tend to assume. Ideally, your pocket knife should be durable, easy to handle, and safe to maneuver. The last thing you want is a knife that you can't open or close properly without getting cut. This post featured some of the best pocket knives on the market right now. Take your needs into consideration before you choose the knife for your next adventure or project. We did a list before on the best survival knives, check it out.