Men who are trying to keep up with the latest trends in men's fashion often turn to a mens fashion blog to help them learn what is new and what is old at any given time. Unfortunately, as the internet is evolving and more men are becoming interested in the fashion industry, there are now hundreds of different blogs that men can start to follow if they wish to keep themselves on the tip of the latest trends. 
We looked at many of the current options that men can turn to when they are looking to start following a men's style blog to help them keep up with what is changing and to help them know how to dress if they wish to remain in style. In this post, you will be introduced to the best blogs to follow and subscribe to – and some of the best men's fashion bloggers out there at the moment. 
1. FashionBeans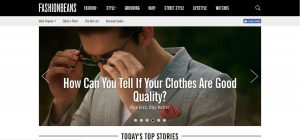 One of our favorite blogs when it comes to men's fashion and style would be FashionBeans. The guys that run this particular blog really knows what's going on in the world of men's fashion – and this is a highly rated men's style blog among the male population. The blog has a lot of useful articles that men can enjoy – including some really good product recommendations for men who are not sure what to stock up on for the upcoming season. 
FashionBeans address a number of important concerns and issues that men often face when it comes to fashion. The topics they cover include fashion in general, staying in style as a man, grooming essentials, hairstyles, and many other important subjects that men will dearly appreciate. The blog has a Facebook page and twitter account where updates are frequently shared for men who want to be kept in the loop through social media channels. 
2. He Spoke Style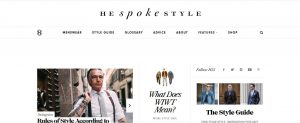 He Spoke Style is another blog that every man should really be subscribed to, especially if they want to ensure they know about new and upcoming trends in men's fashion before everyone else. The blog aims to overdeliver – and they do reach that goal every time. One thing that we really like about He Spoke Style is the fact that they do not only cover fashion, but also help men find a number of useful accessories – such as a recent post on the best fitness trackers. 
This website does not only post frequent updates on the blog, but the founder behind the site, being Brian Sacawa, also remains active on multiple social media platforms at all times. Men interested in He Spoke Style should not limit their following to the blog, but also be sure to subscribe to all of the blog's social channels – including those on Facebook, YouTube, Instagram, Pinterest, and Twitter. There's always something useful on these channels as well. 
3. Effortless Gent
At Effortless Gent, bloggers and journalists aim to help men achieve something important – to stay elegant without having to go through extensive trouble. As men, our lives are often busy, and we do not have hours to spend on ourselves all the time. This is exactly where the Effortless Gent blog comes in handy – men who follow this blog get access to fashion tips, style guides, product recommendations, and more. These tips and other useful information are delivered on the blog, as well as through the blog's social media channels. 
In addition to being a standard blog, Effortless Gent also takes each of their readers through a process of becoming a 'true gentleman'. Once on the site, men can click the "Start Here" button, and they will be presented with an entire guide on what they can do to become more of a gentleman, adopt appropriate fashion preferences, and more. 
4. The Gentleman's Gazette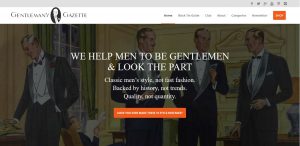 http://www.gentlemansgazette.com/ 
The Gentleman's Gazette is another favorite for us when it comes to looking at blogs that focus on men's fashion and other important topics related to men in particular. The blog really covers everything that a man needs covered in a blog – from what to wear to how to wear it, how to be a better gentleman or just a man in general, and where to buy from when it comes to keeping up with fashion trends as a man. 
This blog has become so popular that it has been featured on both Bloomberg Business and Financial Times in the past. The blog generally focuses on classic looks, but do offer men who wish to stay in style a few useful articles as well. The blog tends to provide detailed articles that make it easier to understand exactly what is going on in the world of fashion for men, what mistakes to avoid, and much more. 
5. Dappered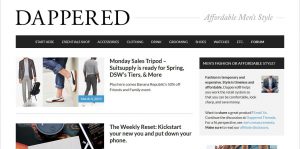 Dappered is quite different from many of the men's fashion blogs that we have seen. The majority of these blogs tend to provide product recommendations, fashion tips, and certain things to avoid – all just in "general". Dappered, however, takes a different approach. The idea behind this blog is that fashion itself is really just temporary and should be considered an expense. Consider a special t-shirt that might lie in the cupboard. On the other hand, according to the founder of the blog, style is something that can be timeless – and also affordable. 
Thus, Dappered was developed with the goal to help men adopt a sense of fashion that is suitable for themselves – each person is unique, so the blog provides guidelines to help men do so. At the same time, the blog educates men on how they can shop to look good, while also ensuring they can save money at the end of the day. This is quite something unique and definitely deserves a follow by men who wish to shop around, especially if they are on a lower budget. 
6. Permanent Style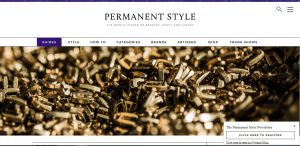 http://www.permanentstyle.co.uk/ 
The Permanent Style blog has been rated as one of the best blogs on fashion and related topics for men within the United Kingdom and even provide a convenient way for male subscribers to be instantly alerted when any sales come up in the local region, given that the subscriber also lives in the United Kingdom. The blog is extensive and covers quite a large range of topics, including tailors, suits, shoes, shirts, ties, accessories, and even casual wear. 
In addition to the many product recommendations that can be found on the Permanent Style blog, there is other useful content as well. Male readers are provided a chance to ask a question – one of the expert bloggers and fashion enthusiasts behind the Permanent Style blog would then closely consider the question and provide a public answer, creating a community-like effect on the blog's platform. 
7. I Am Alpha M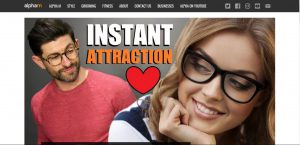 I Am Alpha M, which obviously translates to "I am the alpha male", is a very popular blog that does not only focus on writing, but also constantly publishes Vlogs (video blogs). The content on this site is exceptionally useful – and unlike many of the other men's fashion blogs out there that are very specific with what they target, a lot of men with various style preferences will find useful content o the I Am Alpha M blog. 
The I Am Alpha M blog covers quite an extensive list of topics. While men can find the latest in terms of fashion for the male population on the blog, there are also frequent recommendations for cologne, grooming, and more. In fact, the blog also covers topics such as dating, staying in shape, losing weight, and more. 
8. George Hahn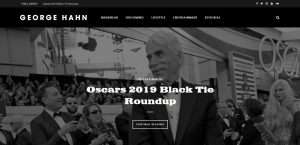 Men who are looking to dress in clothing that would provide them with a more professional and 'sharp' appearance definitely want to follow the George Hahn blog. This blog covers everything from head to toe – including hairstyles that make a man look more presentable, the best shirts, suits, and ties to wear, all the way down to match that suit with the perfect pair of shoes.
George Hahn has been running his own fashion blog for many years and has grown quite a large following. A lot of men trust George when it comes to dressing themselves in the most appropriate classic and "sharp" clothing of the specific time. One thing that makes George Hahn so unique would be the fact that even though he dresses to impress at the office and all other locations he may go to, George still enjoys to ride a bike to his workplace – so those men who think bikes and suits do not go together should take a closer look at George Hahn. 
Conclusion
A good mens fashion blog should offer readers top advice on real topics that are important for men who want to stay in tune with the latest in men's fashion. We found that not all of these blogs that focus on men's fashion are able to provide real and quality advice, which is why we filtered through them and brought our readers the best of the best in this post.